Case study background:
Fog cannons (sometimes known as mist cannons) are an effective option for achieving dust suppression in mine sites, quarries, construction sites, demolition sites and other industrial areas. This is because they can be easily set up, are portable and are also ideal for controlling visible dust.
The cannons work by pumping highly pressurised water through a series of jet nozzles, turning water into mist through atomisation. This fine mist is dispersed through the air by a powerful fan. Airborne dust particles will then collide and agglomerate with atomised mist settling back to the source by gravity.
The effectiveness of Dust-A-Side's fog cannon technology was recently put to the test and independently verified on behalf of a mining client in South Africa* who was experiencing dust fall out challenges both inside, and outside the mine.
*Client name withheld to protect privacy.
Problem statement:
A coal handling facility was experiencing dust challenges with dust blowing out into the local community. The source of dust was from coal stockpiles in the stockyard located near the perimeter of the facility. Complaints from the community with the amount of dust encroaching across the perimeter was pressing and an effective solution needed to be implemented. Dust from coal stockpiled in the coal stockyard led to the community within the proximity of the mine complaining to the mine.
With Coal stockpiles very sensitive to both wind and moisture, one way to prevent stockpile dust from becoming airborne is spraying water to coal thus preventing dust from being released during handling.. The problem with this method is that the coal cannot be used until it completely dries out which can lead to costly project delays for the client.
To provide a better solution for our client, Dust-A-Side commissioned the design and installation of sophisticated fog cannon systems.
The solution:
To prevent dust from becoming airborne and spreading across the local community, 21 fog cannon units with a 630mm diameter were strategically positioned along the perimeter of the stockyard.
The fog cannon units were set up in 3 'phases' with 7 fog cannons per phase. This allowed for greater independent operation of the units rather than forcing all 21 units to operate as a single system. This way, if there is an electrical issue or some of the cannons need to be pointed in a different direction, each phase can be switched on/off or redirected separately.
Whenever the wind picks up, the system is activated to create a mist curtain between the stockyard and the community, effectively capturing dust particles before the particles can spread beyond the perimeter.
As mentioned above, the separate phases can be pointed in different directions independently, so whenever there is a change in wind direction, a phase can be pointed in the right direction as required.
The results:
To gauge the effectiveness of the fog cannon system, dust fall out levels both inside and outside the perimeter were independently measured for 3 months to establish a baseline.
After the system was installed and activated, dust fall out levels were measured again. The results are illustrated graphically and in the tables below.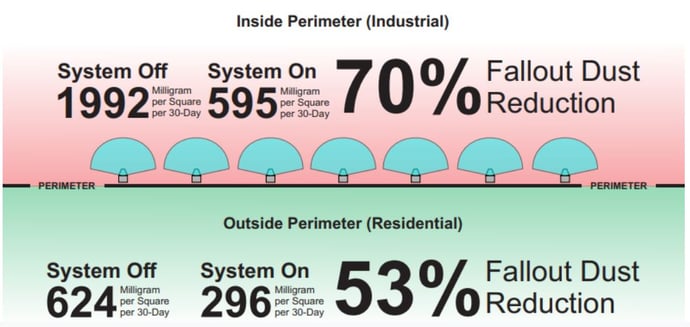 Inside Perimeter (Industrial)
Month 1
Month 2
Month 3
Average
System Off
1947
1869
2160
1992
Baseline measurement
System On
497
603
684
595

Implementation of fog cannons

Variance
-1449
-1267
-1476
-1397
70% reduction in fall out dust
Outside Perimeter (Residential)
Month 1
Month 2
Month 3
Average
System Off
627
625
621
624
Baseline measurement
System On
144
281
463
296

Implementation of fog cannons

Variance
-482
-344
-158
-328
53% reduction in fall out dust
Since activating the system, the client has been very happy with the results and so has the local community. One of the greatest advantages of this system has been that the client does not have to soak coal with water, so it remains immediately usable after it has been mined and then transported to the stockyard.
Dust-A-Side continues to provide the client with ongoing support and maintenance for the system to ensure its continued success.
Interested in learning more about Dust-A-Side's fog cannon technology for your operation?
Simply get in touch with us today or click here to arrange an on-site technical consultation and report.
We'll provide you with a detailed cost analysis based on the size of your operation and your individual dust control requirements.