Background
This road stabilisation project was carried out by Dust-A-Side at Teberebie village in Ghana. The village road is a thoroughfare to the AngloGold Ashanti Iduapriem Ltd mine. The roadway carries a medium level of traffic consisting of taxis and LVDs to and from the mine.
The road required stabilisation and other repair work in order to provide villagers and mine vehicles with a safe passageway to travel on, free from dust and mud. Prior to the completion of this project, a lack of regular maintenance had left the road in a state of disrepair.
Additionally, as this village is located in a Western Africa tropical region, it receives high rainfalls of up to 260mm/month during the rainy season. This significant rainfall had eroded the surface of the village road and created numerous and dangerous potholes. There was also a lack of proper water channelling and drainage, meaning the road became too dangerous to drive on whenever it was embedded by too much water after these heavy rainfalls.
The first step in stabilising the road surface was to fix the defects and dress the road with proper wearing coarse and then apply Dust-A-Side product.
About Dust-A-Side Product
Dust-A-Side Product is a Bitumen based emulsion milled to micron bitumen particles emulsified in a saponified solution. This product is specially designed for use for rural and national roads construction including stabilisation of access and mine haul roads.
Implementing a comprehensive program of wearing course stabilisation with bitumen emulsion on the village road has helped to dramatically reduce excessive water and mud accumulation during rainy days. This also contributed to dust control and has reduced the need for constant grading to eliminate/ fix road defects such as rutting, corrugation, loose stones and related defects
Scope of project
The village roadway stabilisation project was carried out in the following phases.
Phase one
Treatment of the access road with a footprint measured as follows:
165,340m² stretch of road made up of SECTIONS ACDEF 6 780 m X 8 m + Mine wide Access Road 10100 m X 11m.
The roadway was stabilised with application rates ranging between 1.2 -1.5 ℓ/m². Higher concentrations (1.5 ℓ/m²) used where traffic is high. 1.2 ℓ/m² applied for low to moderately trafficked roadways
These roads are treated with 0.6 ℓ/m² per annum as and when required.
Phase two
Covered the Main Access road with a footprint measuring:
287 100m² stretch of road made up of SECTIONS ACDEF 22 000 m X 8 m + BB Mile1 - W/HOUSE 10100 m X 11m.
Main access road carries medium to heavier traffic of LDVs and haul trucks.
This roadway was stabilised with product ranging from 2.0 -2.5 ℓ/m². Higher concentration applied on areas that carry high traffic.
0.6 ℓ/m² per annum is reserved for maintenance.
Labour, equipment and soil required for this project:
1 Grader operator (CAT 14H, 140, 16 or equivalent)
1 Water cart operator (18 000 litres)
1 Mechanical Broom
2 spotters (to control & manage traffic)
A site manager
The current wearing course contains a high clay content with a PI above 20. The mine provides a suitable wearing course, i.e. spent ore from the heap leach circuit to modify high clay soil
Roadway Preparation
The materials stabilised with DAS Product included granular materials and or soils of specific classification.
G6 or poorer quality, do not yield desirable performance when stabilised with bitumen emulsion. Clayey material falling outside the desirable bracket needs to be modified as indicated in the images below.
DASProduct can work with a wide range of soils; however, they need to be tested in the lab first to determine the appropriate and suitable mixture soil/gravel classification tests prior to stabilisation.
Roadway Stabilisation
The materials commonly treated include granular materials and or soils of specific classification.
Initial stabilisation takes approximately 2.5 - 3ℓ/m² depending on wearing course classification according Dust-A-Side roadway stabilisation protocol. For this project 1,2 – 2,5ℓ/m² was used.
Traffic disruption is minimised by making use of experienced spotters
Can be trafficked while stabilisation is taking place.
Traffic used to compact stabilised roads and a compactor used on low to medium trafficked roads even on roads that require immediate stability
Significantly reduces heavy construction traffic jams.
The roadway requires ongoing maintenance to prevent it from deteriorating. . Maintenance per annum range between 0.6 - 3ℓ/m² depending on traffic for this project.
To obtain stabilised roadways with good water repelling properties, the road is properly cambered/ crowned.
Proper drainage systems are also crucial to channel water off the road when it rains.
Road Stabilisation - Before and After Images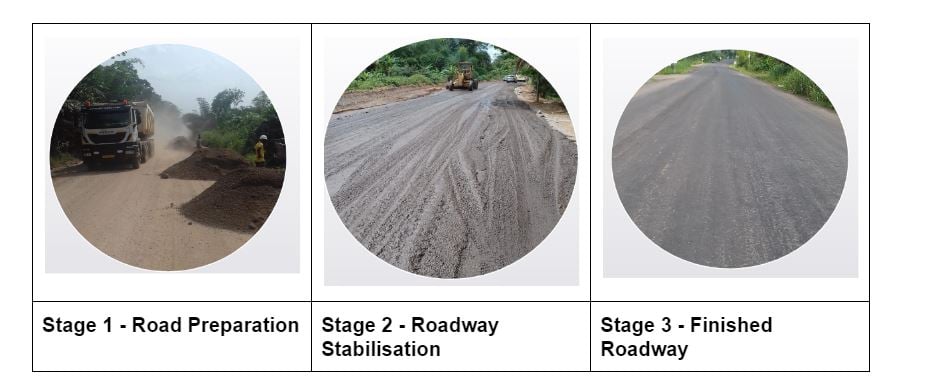 Dust-A-Side successfully stabilised the roadway during rainfall
The community is happy with the performance of the roadway stabilised with Dust-A-Side Product both in wet and dry conditions.
With our wealth of experience in stabilisation and maintenance of such roadways, our team took into consideration the need for proper water channeling and drainage. This has ensured that the material is properly coated and sealed, making the road safe to drive during rainy seasons.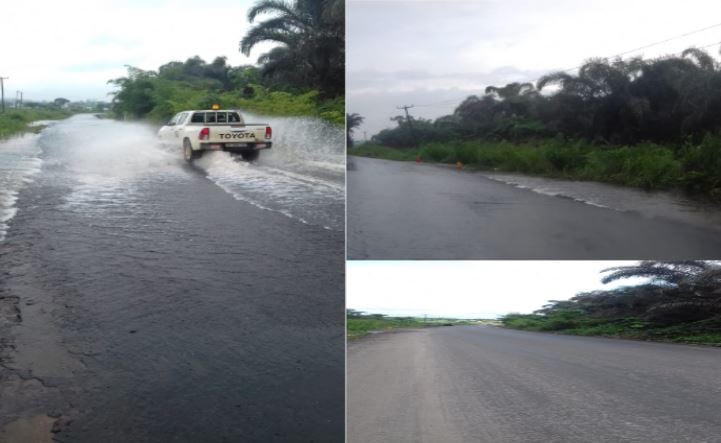 Ongoing roadway maintenance and pothole fixing
To prevent DASProduct stabilised roads from decaying over time and to continue to provide the villagers with safe to drive on roads, maintenance is scheduled and implemented as and when the need arises.
The images below demonstrates how defects such as potholes are repaired including sections that needs regrading and rejuvenation of the binder to improve on waterproofing capabilities
Maintenance frequency is dependent on traffic volume and intensity. The higher the traffic volume (>10 vehicles/hour) ,the more maintenance would be required.
Blending the in-situ wearing course with good road building aggregates or soils will reduce maintenance frequencies as the road base is protected by bitumen seal which provides exceptional waterproofing properties
Benefits and outcomes of Dust-A-Sides road stabilisation program:
Products used are suitable for rainy areas and heavy traffic tolerable
Product application provides roadway waterproofing area with approximately 260mm/ month of rain
Reduced road maintenance equipment usage
Reduced roadway costs as usage of bitumen-emulsion is cheaper on stabilization than conventional roadway pavement with tar
Reduced water usage
Reduced fugitive and airborne Dust concentration/levels
Reduced plant operation costs
Increased road usage during rainy season
Early trafficking during stabilisation and maintenance
Easy defects fixing such as potholes, rutting, water boards and cracks.
Dust-A-Side is proven to outperform
Dust-A-Side is the world leader in providing holistic haul road management and dust control solutions to the mining industry.
For a free obligation quote, feel free to contact our commercial team for technical consultation complete with preliminary report.
At no charge to you, a technical expert from Dust-A-Side will:
Conduct a thorough inspection of your site
Assess priority areas including roads, process facilities, conveyors or stockpiles
Study your current operating practices, processes and systems
Organise any required accredited laboratory testing of gravel soil and water samples
Look for opportunities to improve efficiency and reduce costs
Perform a cost benefit analysis
Following the consultation, our engineer will prepare a preliminary report, detailing recommendations and solutions to meet your needs as well as proposed next steps.
Call us today on +27 12 648 8900 or visit us at www.dustaside.com