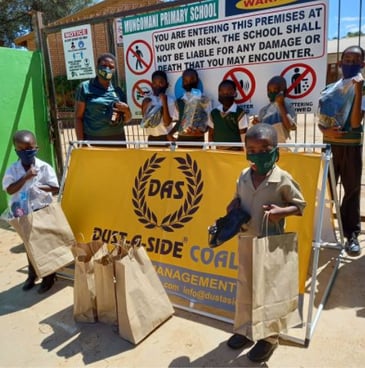 At Dust-A-Side Coal, one of our core values is caring and this includes caring for the people and the places we work in. Our philosophy is to give back to local communities wherever we can, not only in areas where we operate, but throughout South Africa.
Recently, the team at Dust-A-Side Coal recognised an opportunity to make good on this promise to give back by helping out the children of a remote school.
Mungomani Primary School is a school based in a deep rural Tshiswenda village in the Nzhelele Valley of the Limpopo Province. Despite being in such a remote area, the school has 905 students, 24 educators, an admin clerk and 11 support staff members.
The school faces numerous challenges due to a lack of resources. Over the years, the school's facilities have become run down as can be seen from the images below.

Unfortunately, many of the students do not have even the most basic of necessities which makes it difficult for them to achieve their education goals.
In order to help these students get the best possible start to their learning careers, Dust-A-Side Coal donated 17 pairs of school shoes and socks to students who were identified as being in dire need.
This humble donation was highly appreciated and the school principal sent a letter of appreciation on behalf of the children who can better focus on their studies now that they have safe and comfortable footwear.
Dust-A-Side Coal plans to further assist other students who come from less privileged families in the near future.
If you'd like to learn more about our commitment to sustainability and social programs, please click here.