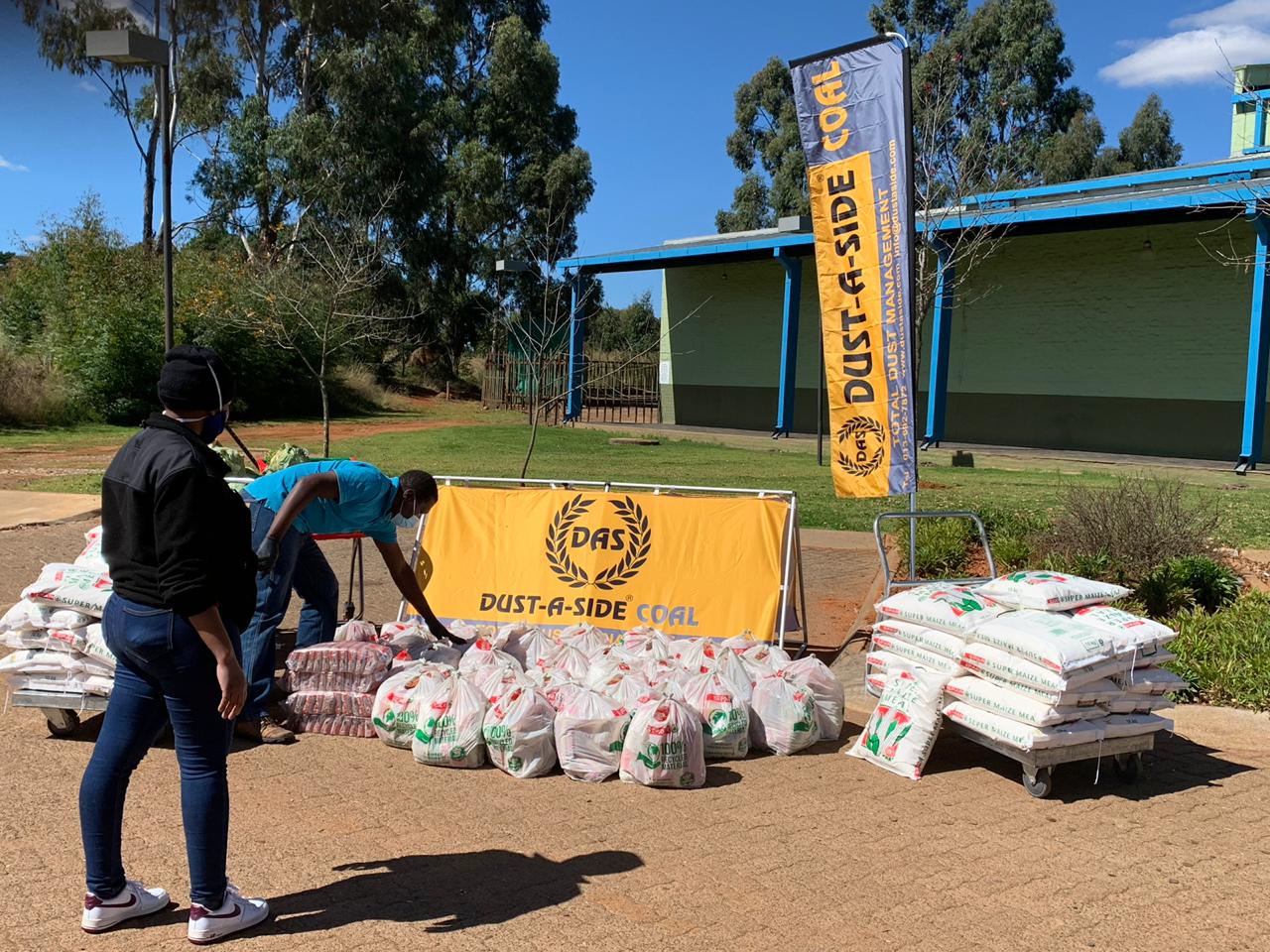 With the impacts of the COVID-19 pandemic continuing to be felt throughout South Africa, Dust-A-Side has taken action to help families in need.
One of our core values is caring and this includes caring for the people and the places we work in. Our philosophy is to give back to local communities wherever we can, not only in areas where we operate, but throughout South Africa.
A dedicated team from Dust-A-Side Coal recently donated and distributed some much needed food hampers to 40 families in the Emakhazeni Local Municipality. Dust-A-Side Coal is a stand-alone company that focuses on local communities and locality to Mpumalanga.
The hampers were valued at R500.00 each and contained maize, rice, vegetables, flour, laundry liquid, tea and more. In total, R20 000.00 worth of food and goods was donated by Dust-A-Side Coal (Mpumalanga) for this initiative.
Most of the families who received hampers were affected by the COVID-19 lockdown and were not able to report to work as usual or were otherwise unemployed and had multiple dependent children within the household.
Mapping for eligible recipients was done in conjunction with the Emakhazeni Health Project (Exxaro Belfast) and members of the Department of Social Development in Emakhazeni Local Municipality. Additionally, a caring community member, Eureka Hlatshayo, helped us identify several individuals within the area who also needed assistance by using social media pledges. All in all, it was a true community effort to ensure these hampers reached those most in need.
Upon delivery of the hampers, our team would arrive at a specific location only to find that the need far outweighed the resources we had in hand! One of our recipients was that of a child-headed household and the infrastructure of the house was dilapidated without a proper door or window. This is an extremely challenging circumstance, regardless of the pandemic. We are going to continue to assist these households as well as others who are in need within various surrounding communities. Dust-A-Side Coal (Mpumalanga) is also planning to implement training programs and bursaries (valued at R280 000.00) to create self-sufficiency for the underprivileged.
If you'd like to learn more about our commitment to sustainability and social programs, click here.