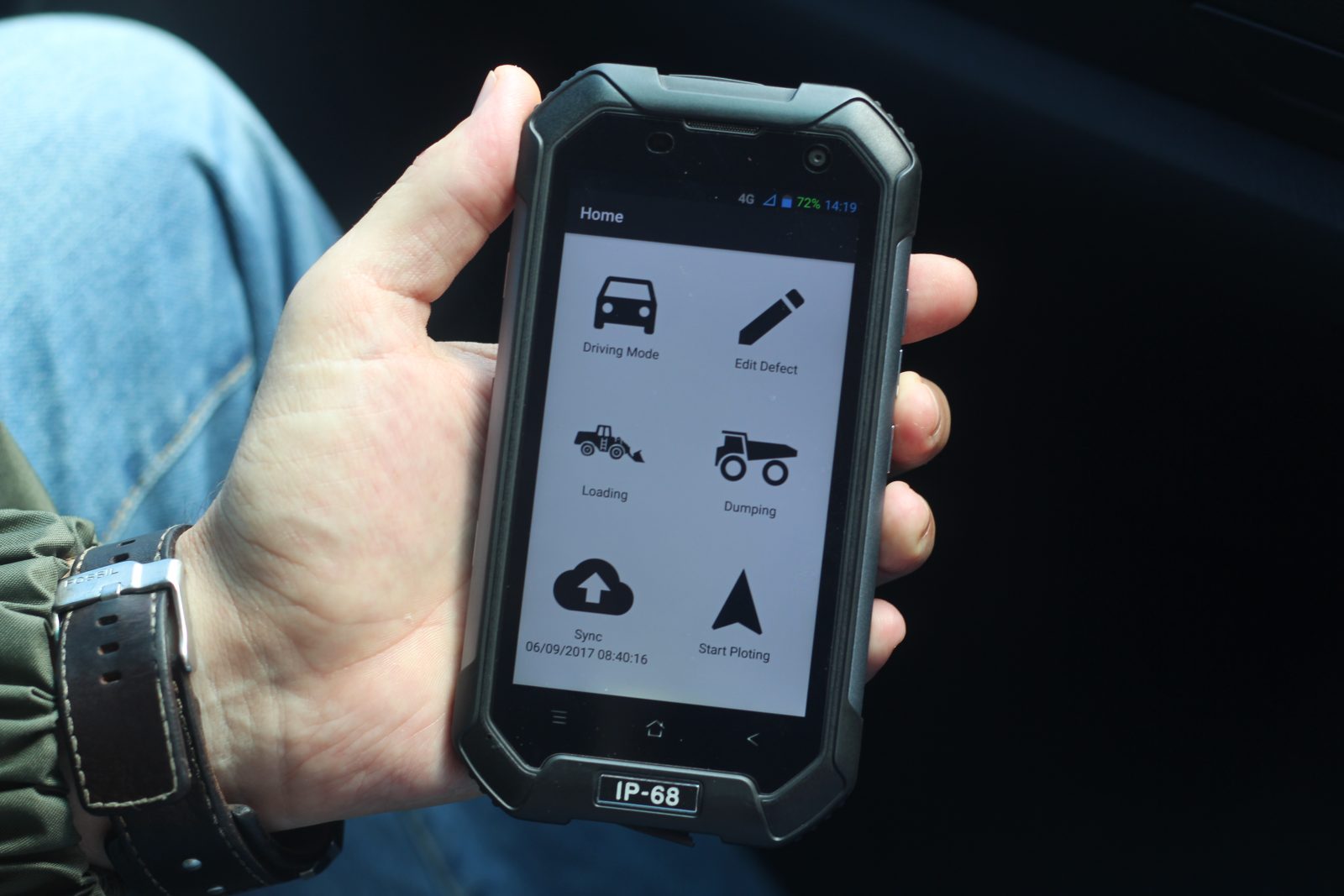 The Government Section 12L Energy Savings Tax Incentive has been made accessible to Dust-A-Side customers. Energy saving projects identified and submitted to SANEDI for the Section 12L Tax Incentive are as a result of Dust-A-Side's DASMetrics haul road performance monitoring and reporting solution.
Dust-A-Side began engaging with its clients regarding the Section 12L Energy Savings Tax Incentive from the beginning of 2016.
The Section12L Tax Incentive on Energy Efficiency Savings Legislation (12L) was introduced on 1 November 2013 by government, aimed at promoting the efficient use of energy to safeguard the country's security of supply and address environmental concerns.
On an annual basis 12L offers a tax incentive for large energy users who implement appropriate energy efficiency measures where energy performance improvement can be verified and validated by an Measurement and Verification Inspection Body. The tax deduction rate is currently 95 cents per verified kilowatt hour (kWh) of energy
saved – for the relevant year of assessment commencing on or after 1 March 2015. This opportunity to claim tax deductions applies until 1 January 2020.
Dust-A-Side has gained approval from Anglo American to implement the 12L tax incentive at 3 of its mines. ECS (registered and accredited Measurement and Verification Inspection Body) has been appointed by Anglo American to conduct the required verification and validation inspection work for the haul road energy improvement projects as conducted by DAS. The first phase of these projects is for 2016 and are currently being registered by ECS with SANEDI.
The South African National Energy Development Institute (SANEDI) is the organisation tasked with the responsibility of adjudicating, evaluating and supporting the Section 12L Energy Savings Tax Incentive.
Energy and Combustion Services (ECS) is an Energy and Productivity Improvement company delivering energy and emissions management solutions to large industrial and mining customers. ECS is a certified measurement and verification inspection body for energy savings accredited by SANAS and SANEDI.
DASMetrics Dust-A-Side's Haul Road Condition Monitoring, Reporting and Workflow Management solution developed by Dust-A-Side. Through DASMetrics, Dust-A-Side is able to quantify the reduced diesel/fuel usage of all trucks and equipment on DAS roads.
DASMetrics:
Auditing – offers a scientific auditing process ensuring continuous improvement of Haul Road quality
Workflow Management – allows the user to schedule, assign and

track

tasks such as audits and repairs
Monitoring & Reporting – provides unique processes and systems to monitor and report on Haul Road condition and performance
Key benefits:
Fuel savings CO2 avoidance
Productivity increase Tyre wear savings
Water savings Dustiness reduction
Improved safety
MGM Project Services is Dust-A-Side's strategic partner responsible for operational consulting on project services for the 12L projects. They are responsible for increasing Dust-A-Side's footprint, proving DASMetrics' capabilities and leveraging 12L benefits for each mine site.
Step 1: Identifying savings per mine site through DASMetrics' measurement and verification reports
Step 2: Opportunity scope – Operational current state and potential projects are reviewed and identified for implementation
Step 3: These projects are reviewed by ECS who establishes the potential 12L rebate target for each site.
Step 4: On instruction from the mine ECS registers, implements and runs the project for the relevant tax year.
There are five areas which are being reported on:
The fuel being avoided due to less rolling defect score (RDS) on a Dust-A-Side treated haul road versus an untreated haul road.

The emission reduction on Dust-A-Side treated haul roads due to the improvement of the haul road condition vs untreated roads.

The increase in production on Dust-A-Side treated haul roads due to the improvement in haul road condition

The reduction in tyre wear as a result of the improved haul road conditions.

The reduction in water use when applying the Dust-A-Side product
Step 5: ECS tracks and reviews the project performance progress and verifies and validates the
project performance at the end of the period. This is then submitted to SANEDI for review and granting of the Tax Incentive Certificate.
Step 6: Opportunity scope is conducted for the coming year which includes road extensions and additional savings measures in order to improve on 12L benefits for next period.
DASMetrics Value Report example, the information below has been taken from a current DASMetrics site. It is important to note that this extract is from a current value report that has been validated by ECS who is an accredited M&V Inspection Body.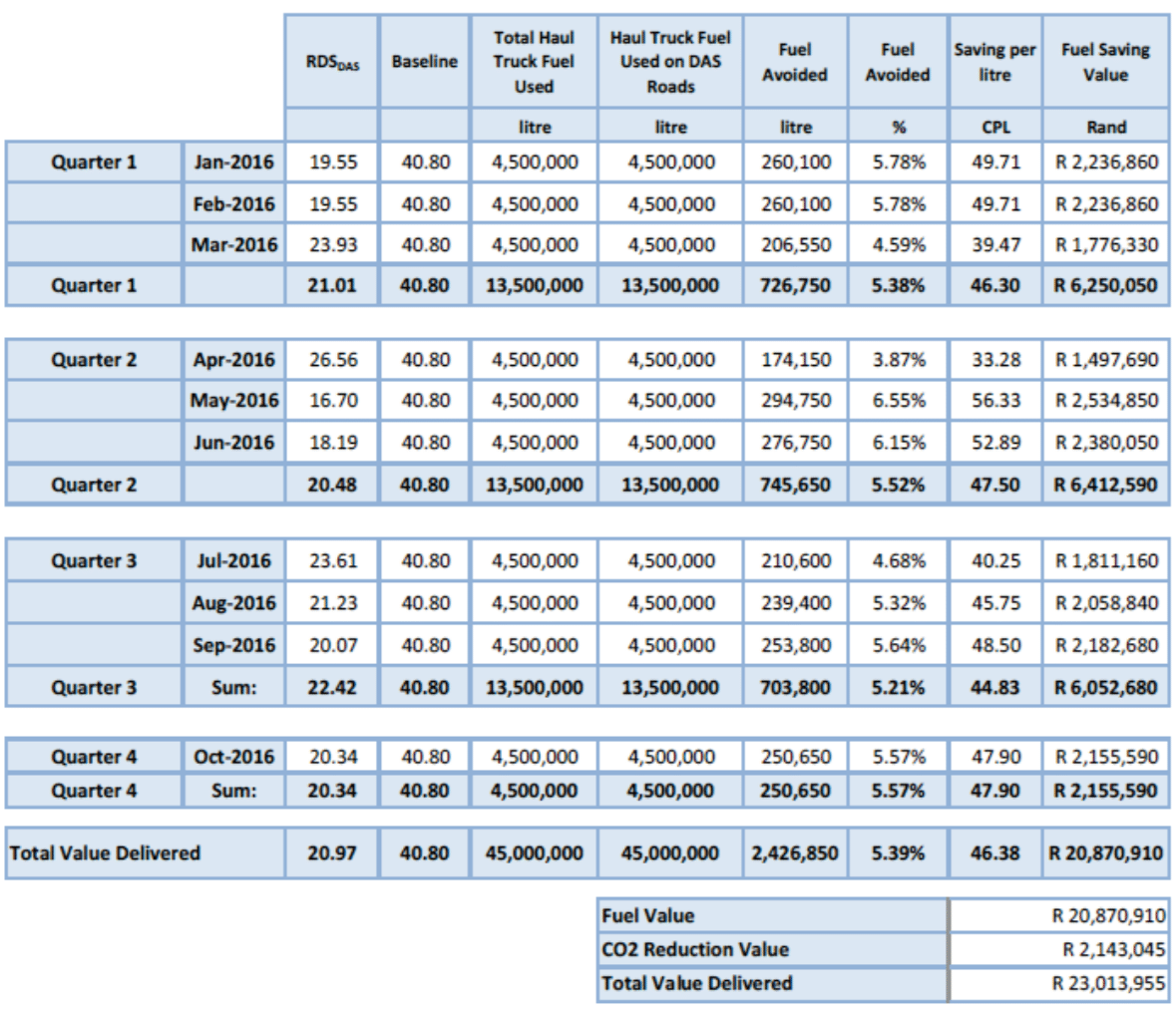 Dust-A-Side's effciency proposal has been introduced to Anglo American where 7 DASMetrics systems are currently in use. The 2017 proposal for Anglo American has been approved and these sites will run the full project in 2018 with proposed savings in mind.
Dust-A-Side is the only company in the world to offer this benefit to its clients, with ECS being the only verification company concerned with diesel usage in South Africa. Verification and quantification cannot be done without Dust-A-Side's DASMetrics solution.
As can be seen Dust-A-Side is committed to differentiate itself from other service and product suppliers by delivering consistent and sustainable value to its customers. The inherent performance and value of Dust-A-Side haul road quality as well as the capitalisation of Government Tax Incentives are clear evidence of this.
How DASMetrics works
Monitoring is performed via visual audits. A specialised DASMetrics handheld device is used by a trained operator to capture road defects, these are synchronised to a database. The data is then integrated, transformed and analysed to produce reports via a DASMetrics dashboard which is used by site managers as a haul road performance management tool.