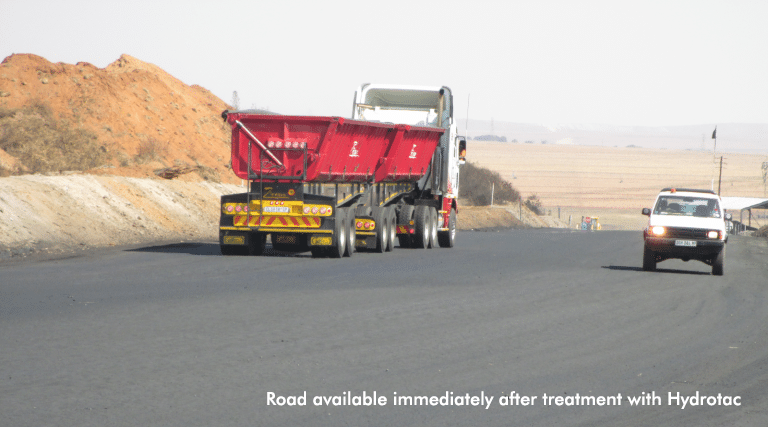 Dust-A-Side has been at the forefront of dust suppression and haul road management for over 40 years offering a wide range of solutions for a dust-free environment, both underground and opencast.
With a range of products i.e. Dust-A-Side Product, Hydrotac, Hydrowet, Acribind, Aquatarp, Hydroplus and Hydrosperse, the company continues to cement its position as a leader in Total Dust Management for the mining industry.
Dust-A-Side also offers Hydrotac (Lignosulphonate based), as a cost-effective solution for non-permanent roads in the mines which is a specially formulated biodegradable binder used to bind surface particles together.
The product can be used as a simple spray-on treatment which is absorbed into the surface material. For more permanent results and heavy traffic areas, it can be established into the surface wearing course layer via a stabilisation process.
An encrusting agent, this dust control product is used to contain fugitive dust on haul roads, storage piles and materials handling transfer points. It reduces water usage and has been shown to reduce water cart operating hours by up to 60%.
Totally organic, it has no corrosive chloride compounds and is readily biodegradable and therefore environmentally friendly. Hydrotac is conveniently delivered in a concentrated liquid form which is ready to use.
It is typically diluted in a water cart at a concentration of 1.5% right up to 20% depending on the specific requirement before spraying on the roads. Hydrotac is an extremely versatile product that is easy to handle and apply without any specialised equipment required.
More importantly, treated areas are immediately open for hauling traffic after application, making it the product of choice in a wide range of industries and operating environments.
Environmental & Cost Benefits:
Operational dust reductions
Increased water savings
Binds surface particles together
Good penetration into road surface
Increase strength of road material – resistant to load stress
No impact on water quality or plant life
Biodegradable
Click Here to download Case Study.