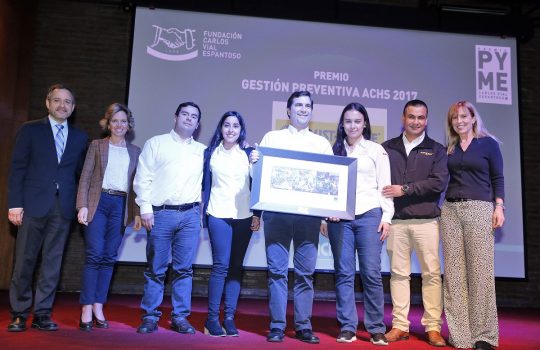 Kudos to Dust-A-Side Chile for being recognized as one of the best companies in preventive management by the Chilean Security Association (ACHS). ACHS, is a mutual insurance administrator of the Social Security Corporation Risks of Accidents and Occupational Diseases in Santiago, Chile.
The award ceremony, now in its 6th year, aims to recognise the best practices in labour relationships and safety commitment. This year a total of 128 small and medium-sized companies were evaluated and only 20 reached the final stretch, complying with the standard and requirements of the FCVE and the Chilean University Council.
Dust-A-Side Chile, Dust Suppression Experts was recognized as the 2017 safety leader of the FCVE, for maintaining an impeccable safety record with a 0.0 accidents rate in its eight years of operation in mining and two years in forest industry in the Medium Enterprise category.
Ramón Rada, General Manager – Dust-A-Side Chile said, "Since its inception in 2009, the company has implemented innovative practices and powerful initiatives to build excellent labour relations where respect for people is key to building a relationship of collaboration, trust and teamwork".
"The cornerstone of our values is safety, since in high-risk operations, such as mining, you could never improvise, everything is planned; and when you work on the plan, the results are as expected, he added.
"We owe this recognition to the love and commitment of each and every one of our team members, their families and our collaborators, partners and clients, who have allowed our development as a company", Ramón Rada concluded