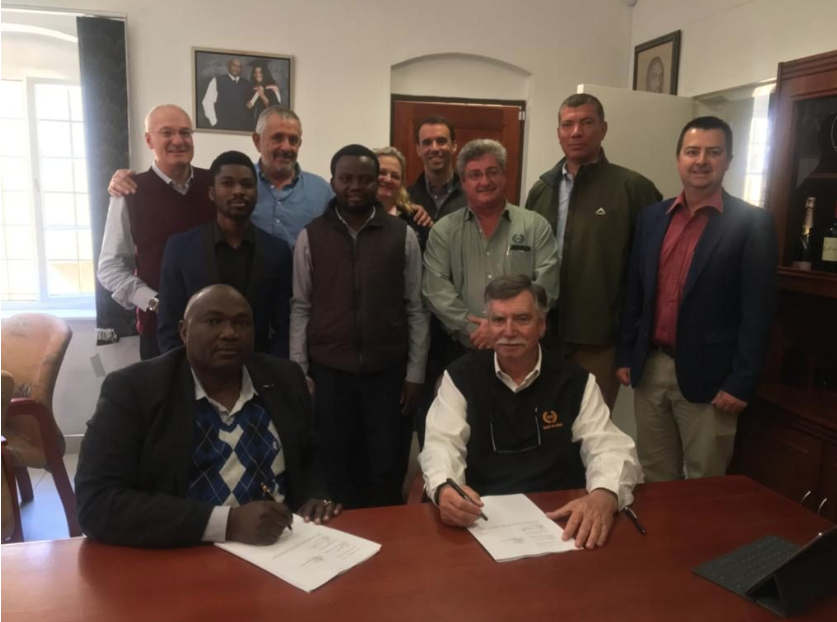 South Africa's leading dust suppression specialist, Dust-A-Side, has entered into a shareholding agreement with the Shitaka Group, a Namibian owned company which specialises in Property Development, Infrastructure, Energy and Telecommunication for the provision of Total Dust Management and haul road maintenance services to the Namibian mining industry.
This is a pro-active initiative by Dust-A-Side to establish local partners in areas where it operates. Shitaka will obtain 25% whilst Dust-A-Side occupies a 75% stake in the joint venture agreement.
Owner and Executive Chairman of Shitaka Group, John Akapandi Endjala expressed his happiness with this partnership as his company associates itself with a global leader in offering Dust Management Solutions to the Mining Industry and encouraged the mines to support this partnership as it empowers the local communities, contributing to the growth and sustainability of the Namibian economy.
Having been the president of the chamber of commerce in the SADC region, John Akapandi Endjala, brings a wealth of experience in the Namibian business world and local entrepreneurship. Akapandi as he is known in business circles is a highly accomplished and respected businessman in Namibia.
"As a local entity with limited knowledge in the Dust management industry, Shitaka Group is excited to be in a partnership with Dust-A-Side", Akapandi said.
"This partnership will not only benefit Shitaka financially but most importantly the skills and knowledge as well as exposure that comes with it, which will greatly equip Shitaka's young team of professionals with international knowledge".
"We believe this partnership will provide a great opportunity to Shitaka's shareholders and employees to grow in this industry and be able to participate in other projects in Namibia and other neighbouring countries".
Dust-A-Side has been a partner of the Namibian mining sector for more than 30 years with their representation based in Swakopmund.
Pierre Grandet, Dust-A-Side General Manger for African Operations, said he is extremely excited at the opportunities that lies ahead of this new partnership.
"This partnership will enable us to cement and expand our footprint outside the South African borders especially in Namibia and will position us as a leader in Total Dust Management in the country", Pierre said.
"The first step would be, to secure our existing business in Namibia and develop new business together with Shitaka, thus investing in local communities through employment and local supplier database".
"We know the conditions in Namibia and we have the much-needed expertise to further roll out our Total Dust Management solutions to the rest of the country", Pierre added.
"We will not only be focusing on mining activities, but we will also be fostering relationships with communities making sure that we add value to the local economy and also give back in areas we operate in".
Dust-A-Side provides for a safer working environment, better visibility, improved production, water, tyre and fuel savings, less maintenance costs and improved health benefits.