Most fruit farms in South Africa consist of a series of unsealed dirt roads or tracks to transport picked fruits. Dust generated by the movement of light duty vehicles, tractors with trailers and big trucks will inevitably settle on the vegetation leaves and fruits due to the roads being unsealed. Further compounding this issue, areas without vegetation also contribute as a source of dust particularly on windy days.
This dust deposition will affect photosynthesis, respiration, transpiration and allow the penetration of phytotoxic gaseous pollutants. Dust particles landing on fruit will lead to the spoiling of the fruit, thus in turn there is decreased productivity or yield for the farmer. Additional to safety, health and respiratory concerns, dust deposits on leaves on the fruit trees create a condition for spiders to build spider webs which spoils the flowers and leads to rotten fruit. As soon as dust is deposited on fruit trees, the leaves show signs of stress by curling up, thus contributing to reduced harvest or production.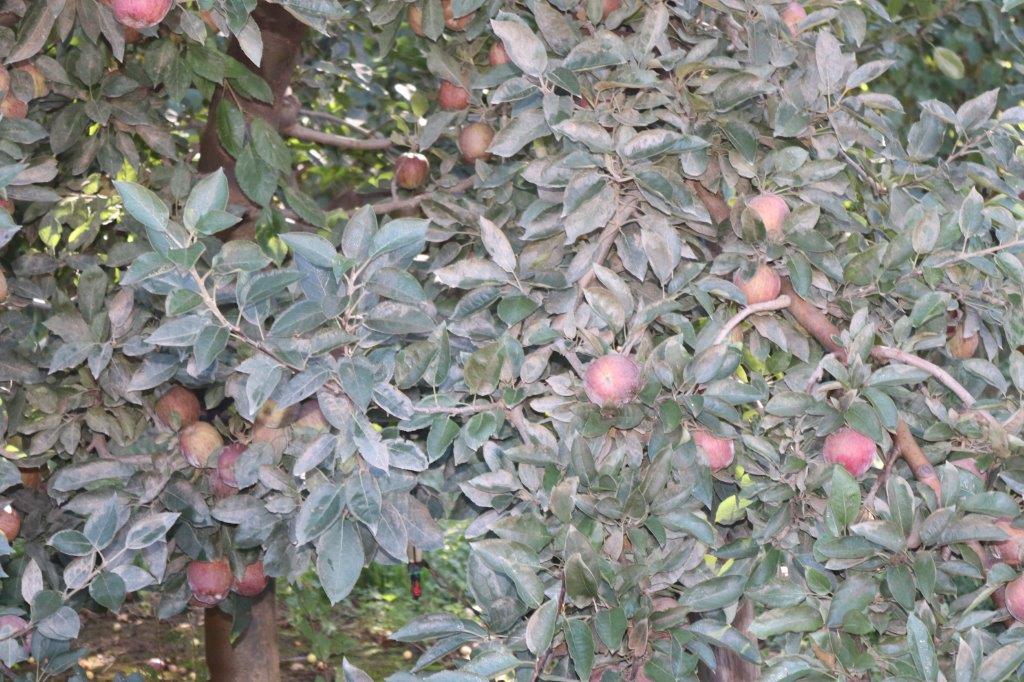 To combat dust, water is commonly sprayed on the roads. The downside of using untreated water is that it suppresses dust only temporarily, requiring frequent applications which ultimately becomes costly and ineffective. With water being a scarce resource, more and more fruit farms are looking for cost-effective ways to control and manage dust as well as reduce equipment and labor costs. Some farms may use a lignosulphonate-based product for dust suppression purposes, however as soon as it rains the product is washed off and re-establishment is required.
This approach had become an issue for our client, a Western Cape based fruit farm, and they needed an effective solution.
How we helped our client
Our fruit farm client procured four different dust palliatives binders from Dust-A-Side to determine which of the four would best address their dust challenges in a cost-effective manner.
HydroTac, HydroSperse, AcriBind and Dust-A-Side Product were procured and trialed on different roadways.
Of the four products trialed; Dust-A-Side Product is a bitumen emulsion binder with exceptional binding & sealing properties, HydroSperse is a blend of lignosulphonate and bitumen giving it good binding and partial sealing capabilities, AcriBind is a blend of lignosulphonate, bitumen and acrylic latex polymers giving it strong but partial sealing capabilities, and HydroTac is a lignosulphonate-based binder which leaches when exposed to moisture.
The above products were mixed in water and sprayed on different sections of the farm roads to control dust. The road network was divided as follows: 1km x 6m (6000m2) for HydroSperse, 1.1km x 6m (6600m2) for AcriBind. 1.9km x 3m (5700m2) for Dust-A-Side Product above the mountain loading area. HydroTac was sprayed at different sections of the orchard. The main haul road from the office loading area to the mountain loading area measures approximately 2.2 km=x 6m (13200m2). The entire 2.2km is dressed in different wearing courses from ash, shaley, clayey, rocky patches and calcrete.
Images of dust emitted on roads treated with the four Dust-A-Side binders, water, and untreated roads were visually assessed by capturing images on each road.
Results:
HydroTac - On an untreated in-route orchard road
The surface was previously treated with lignosulphonate, however the rainfall received prior to HydroTac application washed it off. The dust generated by fruit pickers' tractors was unbearable. Thus, the surface was treated with 5% diluted product, 4 hours later surface treatment with HydroTac treated surface was generating minimal and bearable dust.
Before: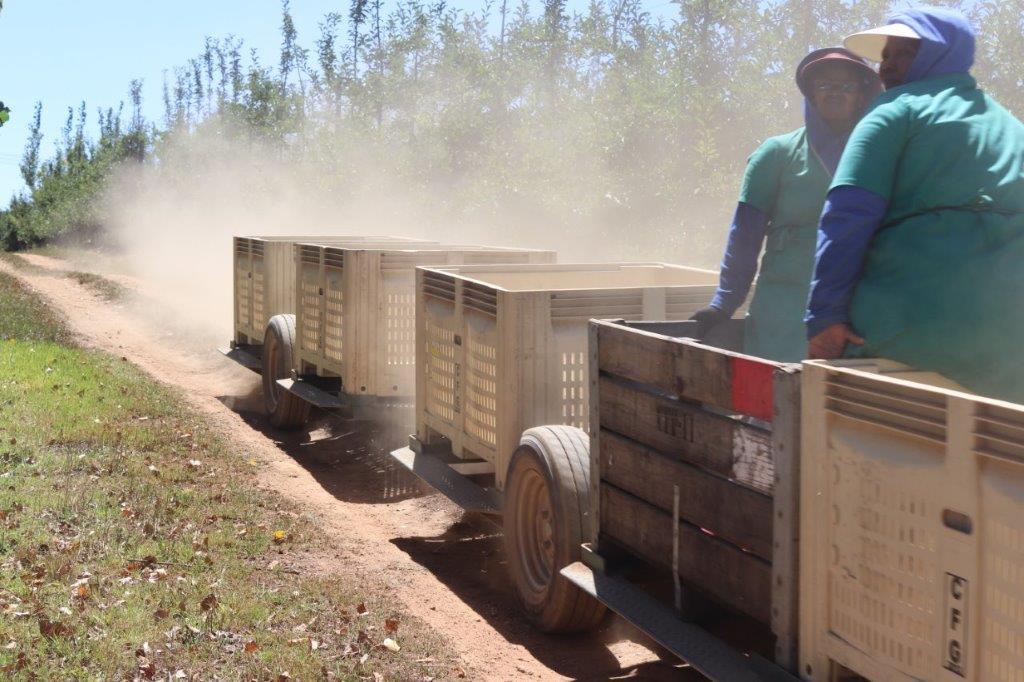 After: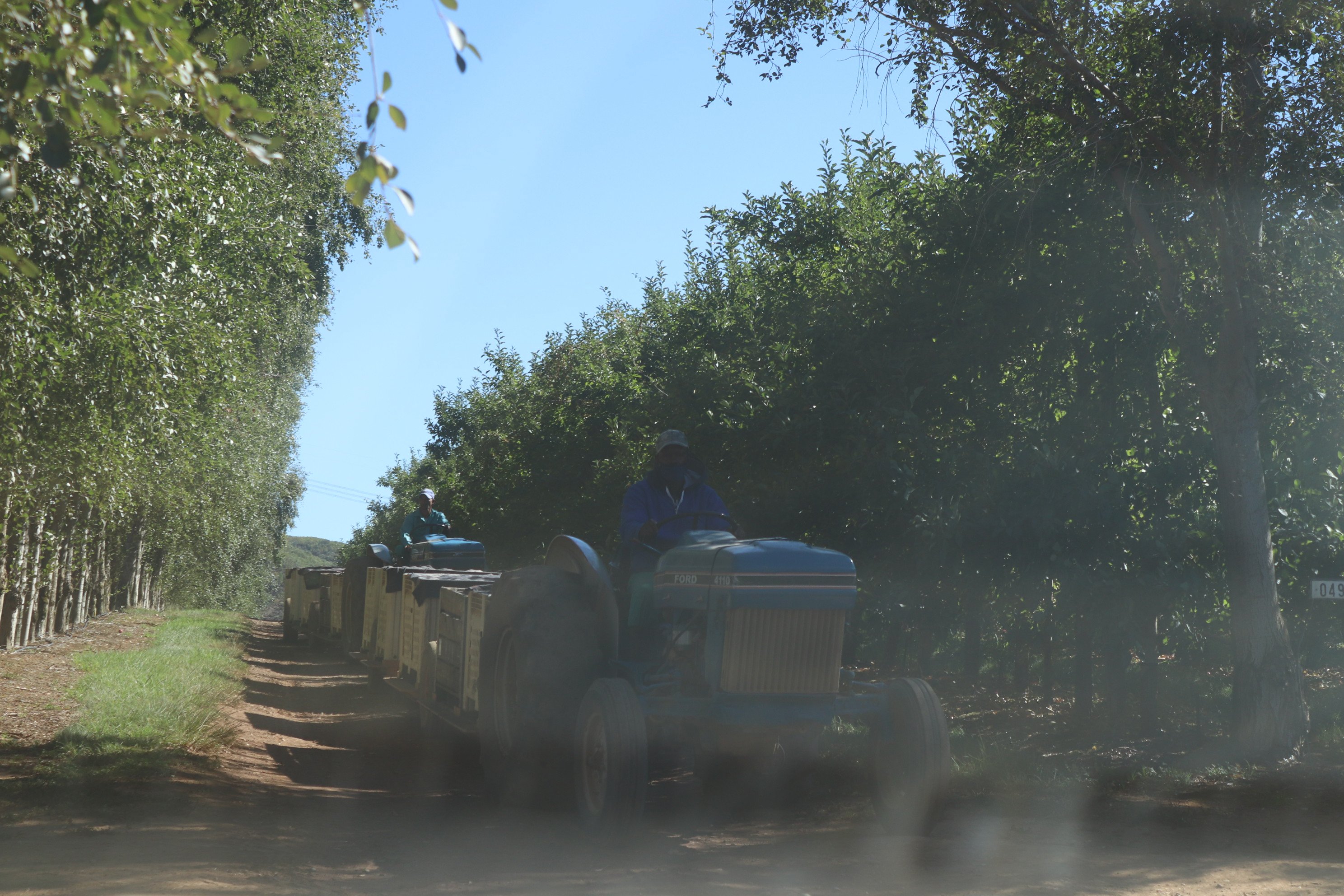 HydroSperse - on a main haul road
The type of wearing course on this road generates excessive dust which can also be seen depositing on the tree leaves along the road. This surface was also treated previously with lignosulphonate-based product, however washed off by rain before application of HydroSperse.
The surface was treated with 5% diluted product for the first application, followed by a 4% diluted product after 24 hours. Afterwards, the treated surface showed signs of compaction and binding. Product performance differed from one section of the road to another due to the presence of different wearing courses. 4 hours later after treating the surface with 5% diluted product, the surface was dust free as per the images. The images depict a clean, dust free environment / atmosphere.
Before: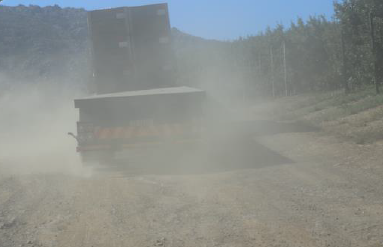 After: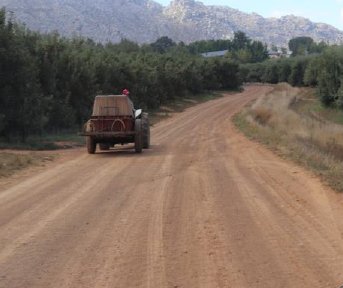 AcriBind
The below picture illustrates the surface prior to the AcriBind application. The surface was previously treated with a lignosulphonate and had since washed off during the recent rainfalls before AcriBind application.
The surface was treated with 10% diluted product aimed at binding this powderish wearing course. The product helped with surface compaction. Follow-up treatment with 5% diluted product was done as a recommended daily maintenance application.
Due to the road having a wide variation of wearing courses, some sections did not respond well. Due to the poor quality of the wearing course used to dress this road surface, 4 hours after application the road surface was generating unacceptable levels of dust. The treated surface was already in need of the second application.
Before: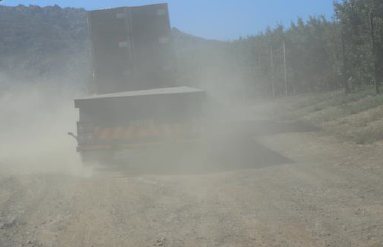 After: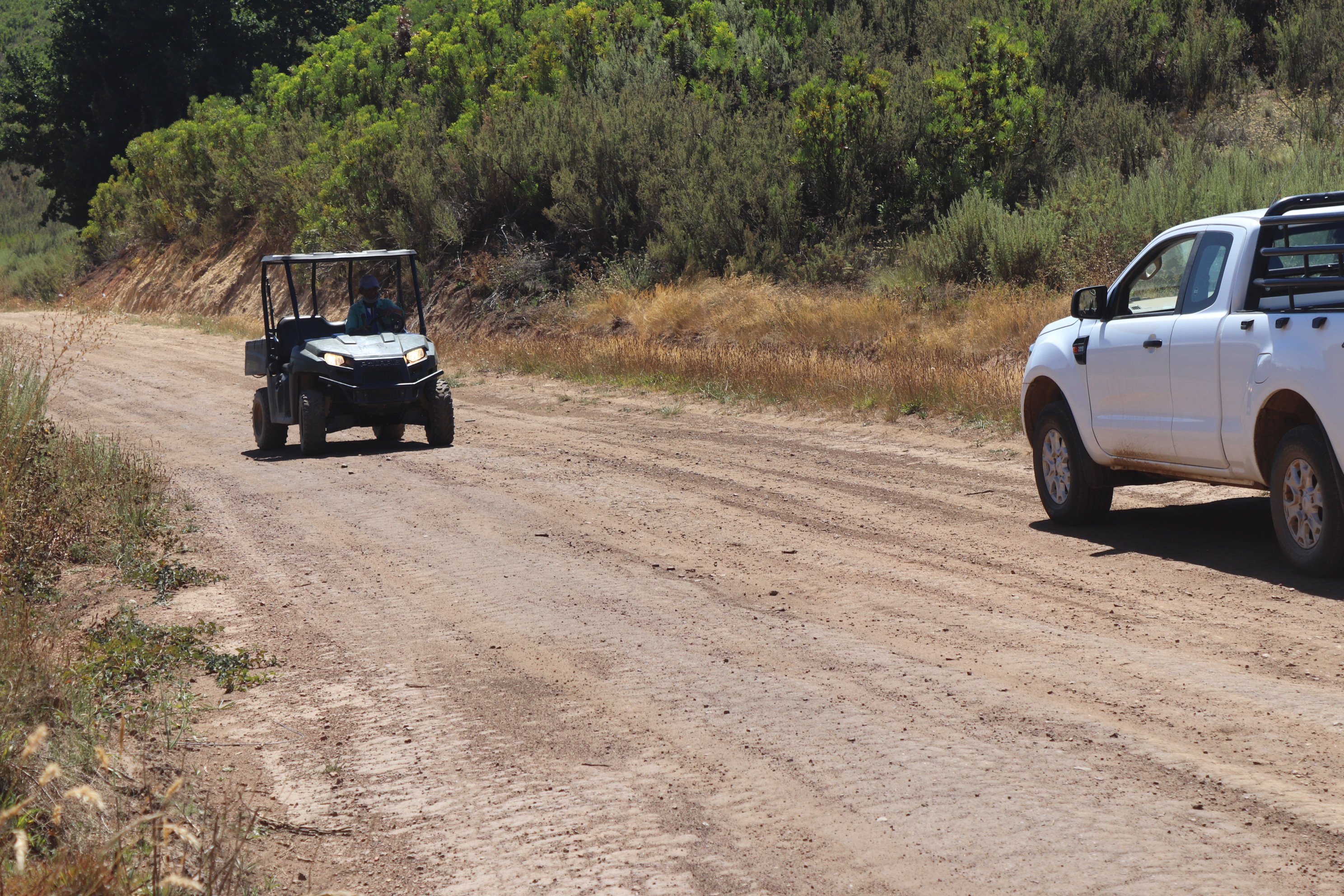 DAS Product
Farm A: On a main haul road
Dust-A-Side Product is a binder with exceptional sealing properties. Unfortunately, at the time of first application, picking had been done on the other side of the orchard resulting in no movement to help monitor and measure performance against traffic. Hence, there were no pictures taken.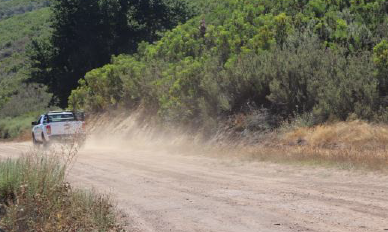 This road was also previously treated with lignosulphonate and washed off during the rainy period.
The surface was sprayed with 1.5% diluted product and the results after application were positive. The surface already showed good binding & sealing properties after the first application.
The first application was done at this low concentration to gradually introduce the product to the wearing course. This will be followed up by 3% diluted daily maintenance for the 1st month or as and when required. The figures below illustrate a dust free road surface after the first & second application of the product. The treated surface stays dust for long resulting in a clean working environment for employees and the fruit trees.
After: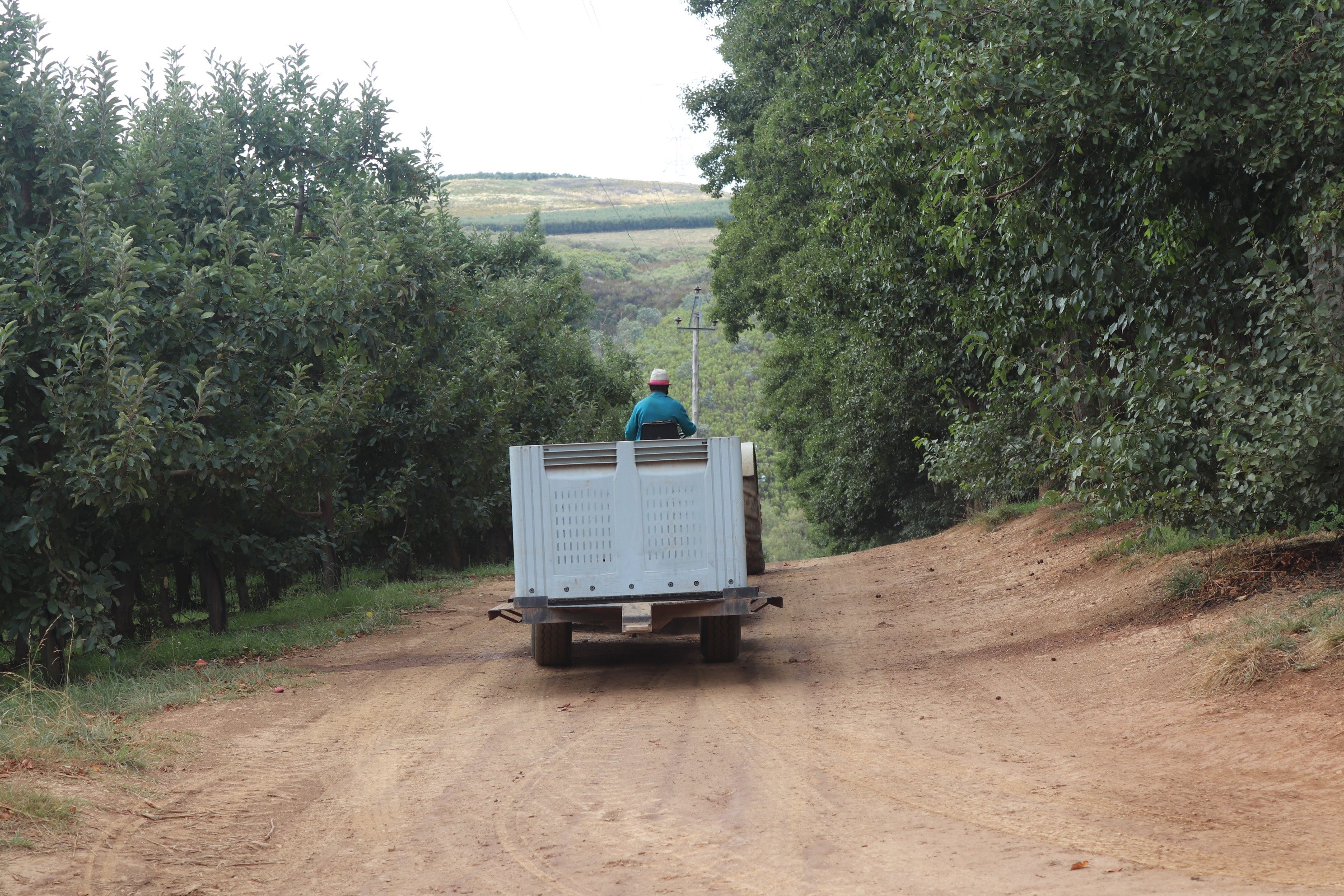 DAS Product
Farm B: On a main haul road
The road surface generated unbearable dust levels and with the trees just less than 100m away from the main road, all this dust settled on the leaves. As previously discussed, this is undesirable for the health of the plants and does have a negative impact towards fruit yields & harvest.
The surface was pre-treated with approximately 500ppm of a surfactant product in order to increase the wettability of water and absorption into the surface. This was followed by 1.5% DAS Product, followed by a second application of 3% diluted maintenance spray. This immediately bonded and coated the wearing course.
However, loose, and coarser material will require repeated applications to completely become part of the surface. On big operations like mine haul roads, coarser material gets swept off the roads to avoid it from pricking the formed bitumen layer.
The picture below shows a dust free road surface after application of the two treatments.
Before: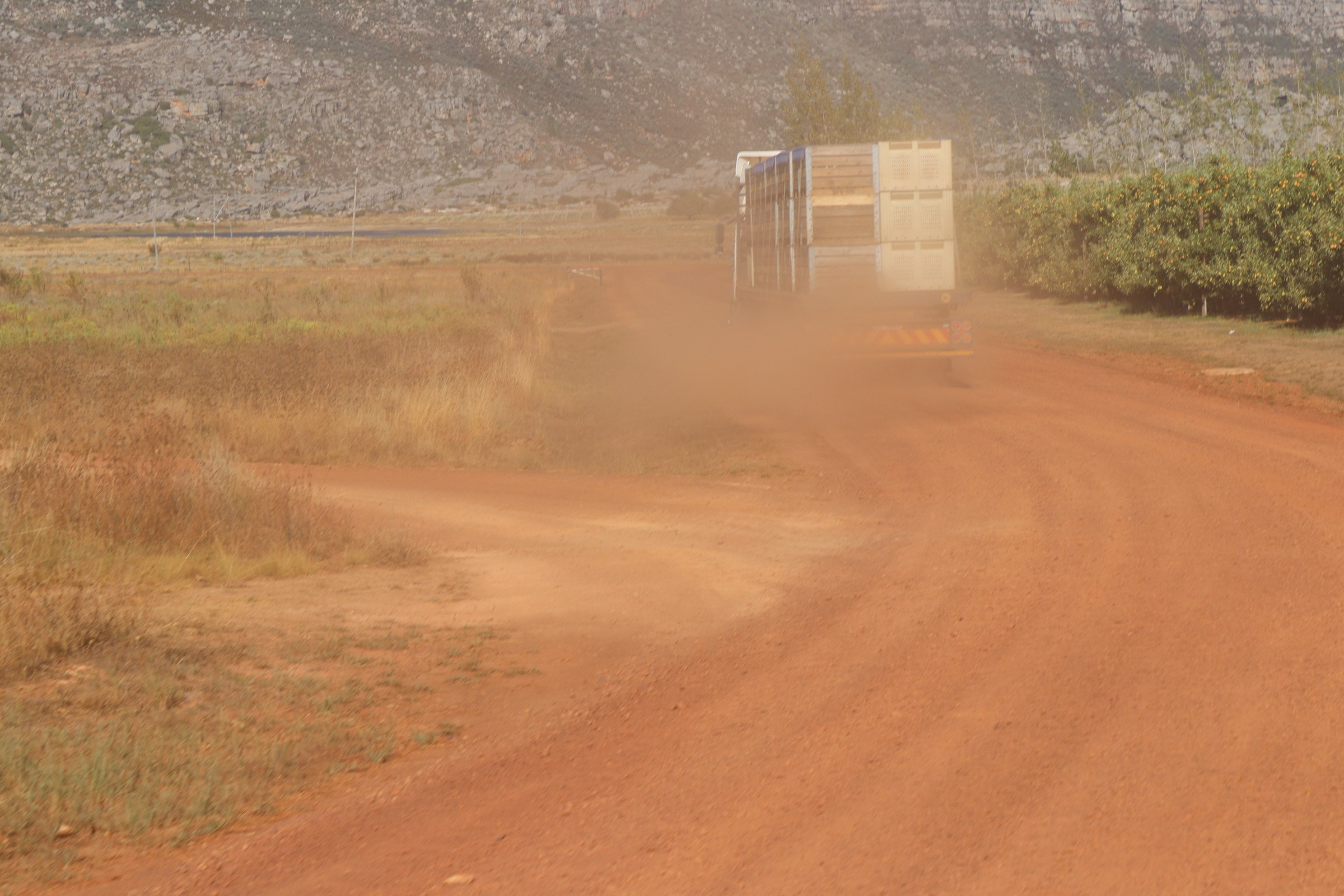 After: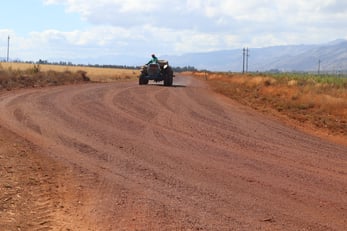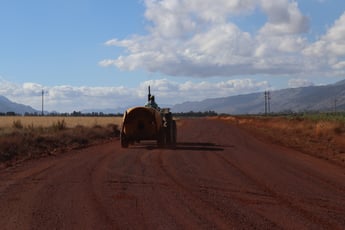 Conclusions and Recommendations
Based on the above outcomes, Dust-A-Side products proved to outclass the use of untreated water or other lignosulphonate-based products, yielding exceptional dust control results.
Dust-A-Side Product and HydroSperse Product were effective in controlling dust for 24-hour cycles. HydroTac Product and AcriBind Product were effective in controlling dust for 4-5 hours after application.
Reduction in fugitive dust emissions can lead to improvements in Occupational Health & Safety as well as air quality for nearby trees. In addition, the use of Dust-A-Side Product and/or HydroSperse Product on unsealed main haul roads can result in significant reduction in water use, equipment, and labour costs.
Based on the 4 days spent at the farm, the recommendations are as follows: Dust-A-Side Product and HydroSperse for the main roads, and HydroTac for routes within the orchard as and when required during harvest time and plant maintenance. These products yielded positive results in a way that the watering tractor does not have to frequently drive around watering the roads to combat dust, saving costs and a precious commodity. This will further free the tractor's operator to focus on activity that is core to the farm. Most importantly, Dust-A-Side products as recommended will reduce dust that settles on the trees which has proven to have negative impact to the yield and visibility. Dust-A-Side Product, HydroSperse and HydroTac products can be easily mixed in water, are safe to handle and do not have detrimental environmental effects, and result in an all-round safer environment for workers.
Dust-A-Side is proven to outperform
Dust-A-Side is the world leader in providing holistic haul road management and dust control solutions to the mining industry.
For an obligation free quote, please contact our commercial team for technical consultation complete with preliminary report.
At no charge to you, a technical expert from Dust-A-Side will:
Conduct a thorough inspection of your site

Assess priority areas including roads, process facilities, conveyors, or stockpiles

Study your current operating practices, processes, and systems

Organise the required accredited laboratory testing of gravel soil and water samples

Look for opportunities to improve efficiency and reduce costs

Perform a cost benefit analysis
Following the consultation, we will prepare a preliminary report, detailing recommendations and solutions to meet your needs as well as proposed next steps.
Call us today on

+27 12 648 8900

or visit us at

www.dustaside.com