Dust-A-Side's Civil Engineer Nathi Manungo, a leader in a male dominated industry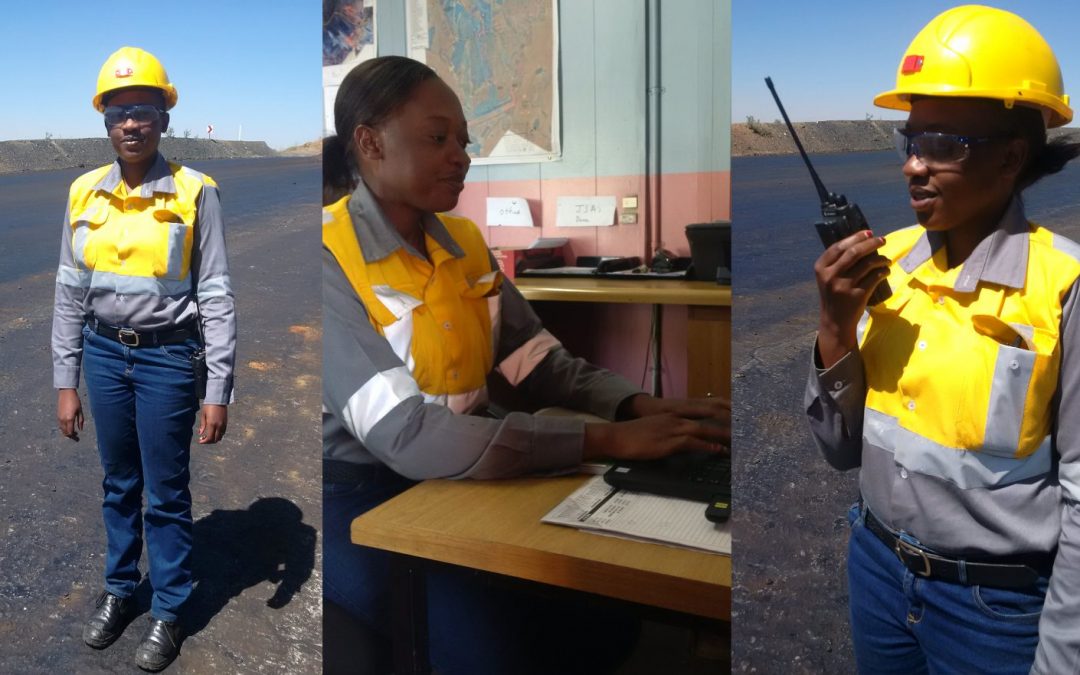 Dust-A-Side's Civil Engineer Nathi Manungo believes conviction, courage and commitment to passion create the foundation needed to turn ideas into reality and help build a successful business.
Appointed as Site Manager at Middelburg Mine Colliery (MMC), Manungo' s main role within the company is to ensure that she and her team fulfil Dust-A-Side's purpose on site by ensuring that their work is of the highest quality, done in a safe manner and that productivity targets are met. She is also responsible for budgeting for the site and ensuring her team's continued growth and development through valuable and essential training.
28-year-old Manungo's CV is impressive. After matriculating in 2007 from United Church School, she undertook a BTech in Civil Engineering: Construction Management. Admittedly, Civil Engineering was her second passion when she applied to study at the University of Johannesburg. Her first had been in Mining Engineering.
Both courses involved construction – which is either upwards or downwards from the ground – and so she was still excited to study Civil Engineering to enable her to be involved in building and maintaining the physical and naturally built environment. Prior to joining Dust-A-Side, Manungo worked at Glad Africa Holdings (Civil Engineering Company) for a few months, following the completion of her National Diploma in 2011.
Manungo's career catapulted when she was informed of an opportunity for Civil Engineers at Dust-A-Side by a friend.
"When I did my research about Dust-A-Side, I saw that Dust-A-Side was a leader in haul road management and maintenance in the mining industry and that was the deal maker for me because it would give me an opportunity to apply my skills and learn more about the fundamentals of road management and maintenance," says Manungo. "I started working for Dust-A-Side on 1 June 2012 as a Civil Engineering Student working at the Witbank office. My responsibility was to capture daily reports from our sites. I was then appointed as Site Manager at Middelburg Mine Colliery on 1 July 2017."
Manungo adds although aware she held the necessary qualifications to fulfil her job, her appointment did come as a surprise – considering the world of engineering is a traditionally male dominated industry – but she embraced the challenge head-on.
"I've always admired women who've done really bold and exciting things that actually change the perception of women in business leadership roles. Truthfully, I was a little fearful walking into the position because I knew what responsibilities the job brought – I had to be well prepared, smart and responsive, to constantly deliver my very best, more so because my success could be a possible gateway for other young women. Being able to have an impact on the lives of other women is a real highlight for me. I hope to inspire other young women to follow their dreams as there is no longer jobs that are meant for either men or women only. We are living in a generation that allows us women to flourish. Let's break the gender-bias," says Manungo
The first in her family to become an engineer, Manungo has the power of desire and great business smarts. Adding to this is her authenticity, which makes her a respected pioneer within Dust-A-Side.
"I believe a successful Site Manager is one who is open-minded, willing to learn, be able to adapt to change and ability to work in any environment. A successful Site Manager is also a person who builds his or her team so that they gain more knowledge. Customer relationships are also important. A Site Manager should understand the customer they are working with, their needs and expectations, and ensure both are met. Those are qualities that earns you credibility. "
Outside of her career, Manungo is a mother and wife – both roles she cherishes. She's also the title holder of 'best home-cooked chicken curry and rice', a lover of music, reader of educational books and skilled in negotiating who watches which TV programmes with her husband and daughter.
"Climbing to the top rungs of the corporate ladder while balancing work and family life can sometimes be tricky to navigate. I wake up at 4am every morning. We've had to come up with a routine where my daughter goes to bed early with me so we can spend time together in the mornings before work. My daughter, young as she is continues to inspire and strengthen me. My husband has always been supportive of me from when I was still studying until today. He pushes me to excel in all I do. We're both very focussed on the big picture, we hold the same values and make a great team together. I also draw inspiration and resilience from my friends, family and colleagues. Being surrounded by a great team and great support network, with different skill sets and perspectives to my own has helped me grow both personally and in business."
Motivated by the philosophy to always seek knowledge and wisdom, Manungo has her sights set on redefining the meaning of 'accomplishment'. "After all, it's all about living, leading and learning"